Upon her arrival at the Humane Society of Silicon Valley (HSSV) in Milpitas, California, Lisa was described by shelter staff as "unusual-looking". The puppy, who was only 10 weeks old at the time, had scars all over her face and suffered from cherry-eye, which required corrective surgery. According to Finnegan Dowling of HSSV, Lisa's appearance made her difficult to look at.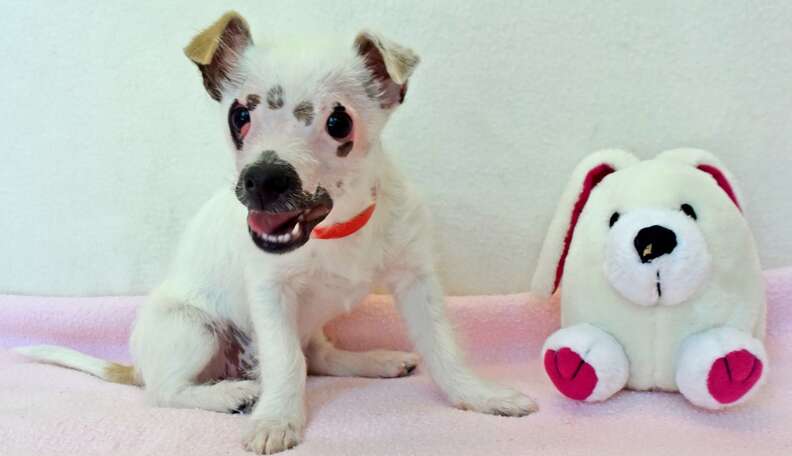 Meet Lisa, the adorable puppy who arrived at HSSV from a nearby city shelter. Though she had gone through some tough times before coming to us, she had not lost her playful and cheerful spirit. According to Dowling, one of our staff members, Lisa was the typical wiggly, squirmy, and joyful pup who loved playing with toys and other dogs. She was also quite affectionate and would lick your nose off if you let her, but that just added to her cuteness.
Despite her scars, Lisa was not afraid or nervous around people. All she needed was a loving family who could see past her physical appearance and appreciate her for the happy-go-lucky dog she was. And that's exactly what we found for her.
As soon as Christine Doblar and her family entered the HSSV door, they knew it was time to find a new companion. Their beloved Chihuahua, Luna, had recently passed away and left their 6-year-old chocolate lab, Pelé, feeling down. The family was searching for another pet to bring joy back into their home. They decided to venture into HSSV to meet some of the dogs available for adoption when they saw Lisa.
Doblar acknowledged that the puppy had a unique appearance, but her attitude was what caught their attention. Doblar described the puppy as having a fantastic and vibrant personality. The puppy showed love and enthusiasm towards everyone she met, which made her stand out among the other dogs they considered. Although they looked at other options, none of them could compare to the little puppy's charm.
Doblar and her family visited the shelter one afternoon to check out the available pets. They were interested in Lisa but didn't make a final decision. However, Doblar's daughters were worried that someone else might adopt Lisa. Later that day, they returned to the shelter and adopted Lisa, now known as Lucky. The family chose this name because they feel fortunate to have found Lucky. Lucky has adjusted well to her new home, has made friends with her furry brother, and is receiving plenty of love and attention.
Meet Lucky, the adorable and unique-looking dog who found the perfect family to call her own. According to Finnegan Dowling, Lucky's owner, there are valuable lessons to be learned from her. Despite her injuries, Lucky doesn't compare herself to others and holds no grudges towards anyone. If you're considering adopting a shelter pet, visit Adopt-a-Pet.com to view available rescues. Additionally, you can support the lifesaving work of the Humane Society of Silicon Valley by following them on Facebook.